Aside from choosing the perfect domain name, it's also important to choose the best web hosting for your website. The web host you choose can make or break your online business.
Though their websites pretty much look like they're one and the same, not all web hosting services are the same. For one, site speed, which is an important factor in a website's user experience and SEO rankings, is greatly affected by the hosting service you choose.
Another important factor is up-time. Your website can only go so far if your host is always down or offline which makes your site unavailable to people finding your website.
Since you're building a real online business with your website and you're in for the long haul, treat your host like your better half so it's important to choose the best!
It's not uncommon for new internet marketers to try and start an online business using free hosts in order to save a dime here and there but it's a bad idea and it will be harder to grow a business when you're using a free host for a lot of different reasons, not to mention that your site will forever carry advertisements that you'll never get paid for. This could probably be one of the biggest mistakes you can do with your online publishing business.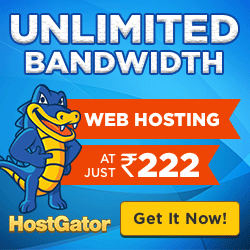 Is Hostgator the Best Web Host?
For shared hosting, they're probably are, in fact, I'm planning to get a reseller account with them to offer to my clients for my Winnipeg internet marketing consultancy business.
With Hostgator, you're guaranteed at least 99.9% up time and they're serious about site speed. Remember that Google's standard of site speed is around 2-3 seconds of load time so it's important to go with a host that's serious with load speed, especially with WordPress as though it's extremely SEO friendly, it could be painstakingly slow. Of course, there are ways to speed up your Word Press site but your Web hosting provider is an important factor with your overall site speed.
If you're not entirely convinced about Hostgator's service, just take a look at the biggest blogs in the world. Most of them are hosted on WordPress, though they upgraded to the dedicated hosting plan, they all started with shared hosting.
Web Hosting Registration
The process of registering for a web host is similar with most web hosting companies as all you have to do is really is just choose your web hosting plan (you can start with the most basic) and fill out your personal and billing information.
You might see a slightly different version of the homepage by the time you read this article but just look for the "hosting plans" button or link to check the different options you have. If you're just starting a blog or an authority site, you can start with the "hatchling" plan. You can stick with this until your site is driving thousands of unique visitors per day and just upgrade accordingly. If you keep growing your site content in the next couple of years and the shared hosting plans can no longer hold your hosting requirements, you can always upgrade to a dedicated hosting which will cost you more but then with such a huge site, the cost of a dedicated web host should only be a small portion of your daily revenue.
Domain Name Registration
After selecting your hosting plan, you'll be taken to the domain registration page. If you already have a domain name, just type in your domain name under the "I currently have a domain name" tab and click "continue to step 2″.
Next, you'll need to put in your billing information by simply filling out the form and clicking on the "Create Account" button.
This is the final step of the hosting registration process. The next important thing to do is to make sure that your domain name is pointing to your hostgator DNS. This can be easily done by logging into your domain registrar account and changing your DNS settings. You can find this by pressing "ctrl" +F and typing DNS.
Alternatively, you can use SiteBuildit!, as you may know, I personally started my online publishing journey with SBI! You can grow your site as big as you want and you still pay the same monthly or annual fee and based on my experience, they have 100% up time and unquestionable site speed. The fallback is with the design and backend interface as it's not as dynamic as WordPress but if you're just getting started with online marketing, SBI! is a great place to start as you get a complete online business course and marketing tools aside from hosting.
Ovais Mirza
Ovais Mirza is a professional Blogger and writing for many interesting topics related to Hacking, Gaming, Digital Marketing and Stock Market. Here you will find some interesting tips and tricks related to Hacking and Gaming.

Disclaimer: The articles has been written for educational purpose only. We don't encourage hacking or cracking. In fact we are here discussing the ways that hackers are using to hack our digital assets. If we know, what methods they are using to hack, we are in very well position to secure us. It is therefore at the end of the article we also mention the prevention measures to secure us.